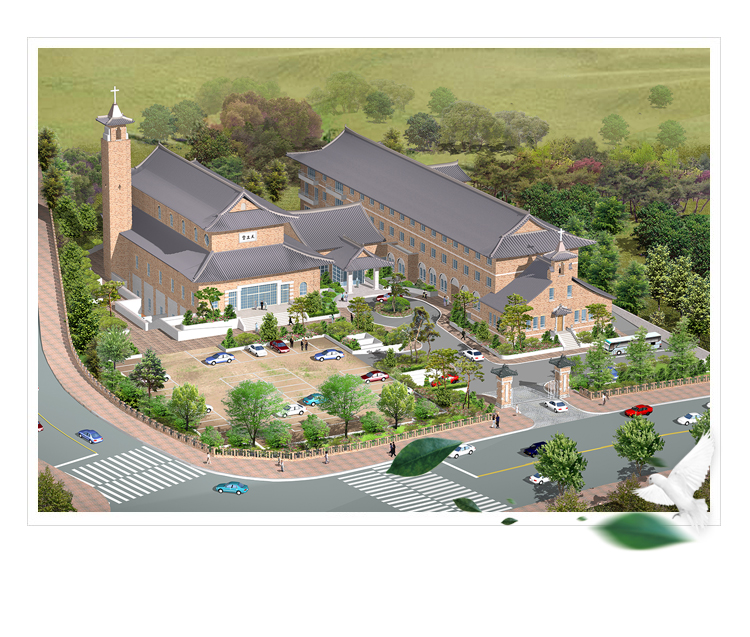 The Peace & Unity Center is a sacred shrine to wish and pray for national reconciliation and unity of South Korea and North Korea, and also prepare and find a way to reach reunification eventually.
Pope Francis said that 'the fraternal love' is requisite to accomplish the world peace at 'the day of world peace' on January 1, 2014. Mission of church is to pray for peace consistently and to attend people suffered from hunger, hate and agony with the love of the Lord as well.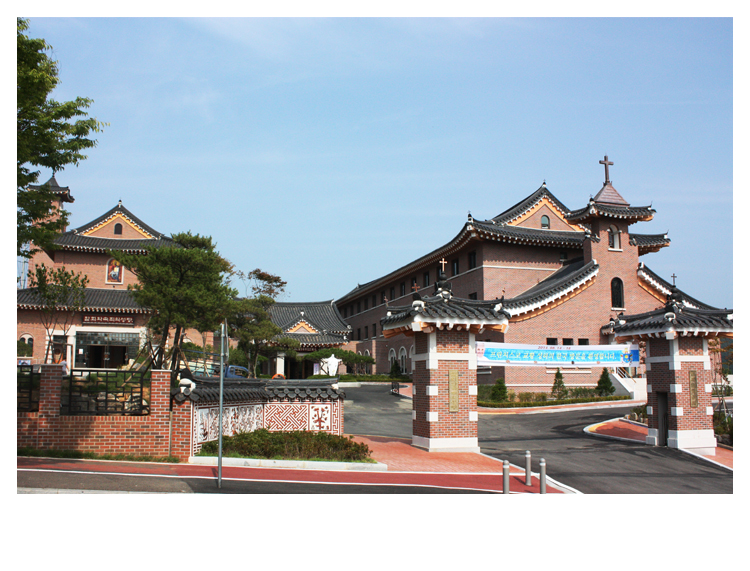 | | |
| --- | --- |
| | The religious field is one of the most heterogeneous fields between South Korea and North Korea. In North Korea, as there is no various ideology and religion it would be a great confusion and shock to them when they meet the South Korean religious culture. In order to soothe such a problem the religious exchanges are quite urgent and necessary. |
| | The religious exchanges should be prepared to help the North Korean people in ideological confusion to establish a new and right outlook on their life and world after reunification. It is necessary to set up an organization to study how to deal with the North Korean 'juche' philosophy of self-reliance. By such a religious exchange and study we have to propose the necessity of their change and reform and also present the optimistic future of a various religious society. |
| | The North Korean religious organizations are totally controlled by their government and the religious exchanges between the north and south has been remained as just a formal propaganda of their reunification campaign. Nevertheless, such interchanges are becoming motive power to promote other humanistic civil exchanges and reach two parties' real reconciliation. The Peace & Unity Centeris founded to be a basic camp for expanding mutual religious interchanges. |


1. Exchange of Society, Culture and Religion between the South and the North.
2. Study, Research and Education for the National Reconciliation.


1. Activation of the south-north interchanges of society, culture and religion.
2. Establishment of base for peaceful reunification through national reconciliation.
3. To overcome the social confusion and disintegration by national division.
4. Establishment of global network for a peaceful reunification.


The Peace & Unity Centeris founded for the purpose of campaign to pray and promote for reconciliation between the north and south and for reunification of two parties in the end. It is located at #111 Seongdong-Ro, Tanhyun-Myun, Paju city, Kyonggi province with an easy access from Seoul and North Korea as well.
This center consists of a main building, a church of repentance and atonement, bongan-dang(gate to peace) and a history museum on the North Korean catholic church. Total land area is 7,603㎡ and building space is 9,091㎡.

The exterior of a Main Building with 3 story and one basement having Korean traditional roof is based on the Maryknoll administration building located at outskirts of Pyongyang. International forums, various culture and art events and programs on peaceful unification are to be held in this building.
It consists of a small church, a conference hall, guest rooms with capacity of 150, a dining hall, a North Korean restaurant, lecture and meeting rooms, praying rooms and so forth.

The Catholic Church of Repentance and Atonement is reconstructed of the Jinsadong Church in Shinuiju, North Korea. and interior of the church is based on that of St. Benedict monastery.
Most of the interior works are artistic ones which include a grand mosaic by North Korean artists, icon of 12 disciples and 14 holy places, stained glass painting contents of the New and Old Testament, Korean styled Stations of the Cross and artistic design of column and lights.

Bongan-dang(Gate to Peace) is a vault laying about 4,880 people's ashes which includes a temporary institution for the North Korean catholic martyrs.
It is to be decorated with stained glass and icon and designed with high quality and peaceful atmosphere.
This charnel house will be operated following the grand opening of The Peace & Unity Centerscheduled in June, 2014.

The history museum of North Korean catholic church is exhibiting pictures, remains and religious goods in northern area before the Korean War and also planning to collect various artistic works of current North Korean artists.
The multi-purposed hall and seminar rooms in the basement is a place for academic forums including regular world peace forum and also for lot of public performances such as concert, play, film and magic.



| | |
| --- | --- |
| | The church itself is a restored one of Jinsadong church in Shinuiju by 1.5 times as big. It's interior works are based on those of the Cathedral of St. Benedict monastery in Duckwon, Hamheung parish. As the Jinsadong church was destroyed during the Korean war it's reconstruction was very hard job but thanks to Father Choi Seung-ryong(former in charge of ancient documents in a research institute of Korean churches) and Father Chang Geung-seon(former chairman of National Reconciliation Committee in Seoul Archdiocese) who endeavored to find related films, photos and written documents in a basement stack room of Maryknoll headquarters in America the drawing works can be successfully completed. |


The most prominent work of interior is the grand mosaic of Jesus of which size is 20 meters length and 9 meters height. Draft design of mosaic is done by Father Chang Geung-seon and the mosaics are completed by 7 North Korean artists for 40 day all nights in the Chinese border city, Dandong.

It depicts Jesus Christ in the center and representative Korean saints out of 103 ones around Jesus. On the left side of Jesus there are St. You Jeong-yul, St. Jeong Ha-sang Paul, St. Kim Dae-gun and St. You Dae-chul. On the right side of Jesus, there are St. Ko Soon-i Barbara, a daughter of martyr Ko Kwang-sung who led evangelization of Hwanghae province, St. Wu Sae-young Alexio and two sisters St. Kim Hyo-im and St. Kim Hyo-ju.


The work of Stained glass pursued typical color and design in line with the Korean styled building. Pastel colors without strong primary colors and mild lines are used to this stained glass work to represent a Korean traditional feeling.

Contents of the work are two. One is representing those of the New Testament including birth of Jesus Christ, Consecration and baptism of Jesus. and the other one is those of the Old Testament such as the Creation and Noah's ark. The stained glass work at the entrance of the church follows a traditional patchwork wrapping-cloth in motive and color especially.



Icons decorated in the church of repentance and atonement are made by members of Institution of Seoul Icon. They are decorated on the 4cm thick plate of white birch with pasted lime by a traditional technique. It takes 3 years to make icon of 12 apostles behind the stations of the cross.
Icon of 14 holy places are framed by traditional paper in line with the traditional styled roof of the church and every number of the places is written in Korean.
The icon of the Resurrection made by Kim Hye-sung in particular is representing the Jesus Christ breaking the gate of death and hell and taking hands of Adam and Eve.
It is also expressing the hope and belief of the resurrection of the North Korean church by the Lord.